Donatella Baldi's story goes against the flow. She is keen on bees and the EoC. Her company called "Sapori Mediterranei" ("Mediterranean Flavours") produces the best organic honey in the Province of Pisa.
source: Focolare.org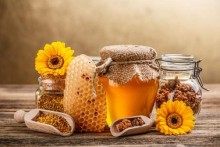 Hardworking, constant, living united and linked to one another: for Donatella the bees are her true passion. In 1991, when she heard about the revolutionary economic project of the EoC, she started a small enterprise. It was not easy to start the production. Financial difficulties did not allow her to have a stable income, until the right moment came, and Donatella Paolini Baldi was able to go ahead:  'The number of families of bees and the amount of honey produced increased,' she shares, 'so much so that I was able to ask for the VAT, to do various registrations, to constitute a real and true enterprise, to leave my other job and to have a small income as an apiculturist'.
The fragrant and aromatic "Beach honey" is the best-selling product of the small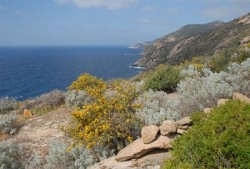 enterprise called Sapori Mediterranei, that she was able to build up through the help of the Corporation of the Migliarino, San  Rossore and Massaciuccoli Natural Park. The latter is also the location for the production of this special quality honey that has already received some awards. Inserted in some purchasing groups as a supplier of honey, she is also a member of the "district of economic solidarity", a pact made among organizations, purchasers, producers and citizens (consumers) who aim at making production and consumption sustainable. This is a network of enterprises with similar goals, who aim at local production with few middlemen, reusable energy, biological cultivation, and who propose a series of services and products that are highly social and ethical.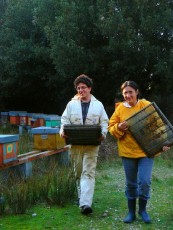 The style of the Economy of Communion has entered into all the activities of this small enterprise that produces honey: taxing itself when – in spite of the good production – it was not possible to pay both salaries (her own and that of Pietro, a young collaborator). Or in resisting the "siren's call" when, applying for a regional subsidy for apiculturists, a supplier made a hint to her about the possibility of pumping up the price of materials for which financing was offered in order to gain more. 'It was a great struggle for me to think of the materials that I could have had for free,' Donatella shared, 'or better still, paid for by the community and even if I imagined the ridicule of my colleagues, together with my colleague Pietro I said a difficult "No", but it was a "No"! To speak of fair play is easy, but to go against the current is a bit difficult. In the end, my enterprise was considered as qualified for the subsidy and was entirely financed by it. As for myself, I was happy that my "sober" choice allowed other (unsuspecting) apiculturists to be inserted in the list after me so they could receive financing, too.'
In the "honey plant" which is availed of for the extraction of the honey, Donatella met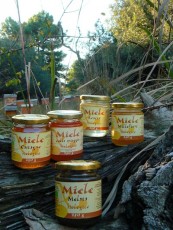 G., a worker serving his jail sentence by working there. 'Even though I was reassured by the person responsible for the plant, by the social worker and by his lawyer, I still found it difficult to accept the fact that I had to spend a lot of my working hours alone with him. In fact, before knowing him they already gave me a detailed description of the multiple homicides he committed… When I found myself in front of him, tall and robust, courteous and helpful, this wall continued to be present between me and him'. Until one day G. heard a conversation of mine on the telephone. 'I was talking to a friend who was sharing her feelings with me in search of understanding and help. I was trying to encourage her to maintain certain actions such as: seeing each other new every morning, seeing what is positive in each other. G. understood well the meaning of my words so much so that he thanked me afterwards. His gratitude enlightened me…'.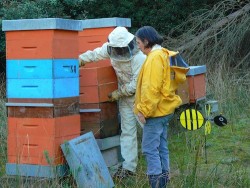 And still more, punctual providential interventions, seen as actions of the "hidden partner", God, to whom Donatella and her collaborator Pietro entrust themselves continually. 'It was a particularly difficult year due to the cold and the intense rain which compromised the blossoming of the flowers and therefore the production of honey. Among the apiculturists there was a drum beat of telephone calls. In this atmosphere, S., an apiculturist who supports his family through his work, called me up crying. He didn't know what to do, he was desperate. I told him to calm down and to have faith. I overcame my reluctance and I found a way to take the bees to a new area that was ... next to 10 hectares of sunflowers. We could put the houses of the bees on his land and the bees can then fly to the sunflowers in the neighbouring field, whose owner was happy to collaborate. I don't know if we will have an abundant production of honey, but I understood that asking and giving have truly the same value.'