Accomplished civil entrepreneur and great appraiser of the EoC Valter Baldaccini passed away last night.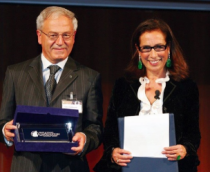 Valter Baldaccini passed away last night at the age of 68 following a long period of illness:  it was just a week ago, last Saturday that he hosted a conference at his company,  Umbra Group's headquarters in Foligno about the Economy of Communion with the title: Economy of Communion: A Proposal to Return to Creating Jobs and Wealth.
We are very close to his family at this time and would like to express our deep gratitude to Valter for his testimony as a civil entrepreneur: his life story tells it very clearly. In fact, Valter Baldaccini thought very high of the EoC that was an inspiration for his life as an entrepreneur, and he wanted to pass this value on to his children,  Leonardo, Antonio and Beatrice who are all active in the company today.
The Umbra Cuscinetti group with its seat in Foligno is a colossus of fine mechanics

and it leads the field especially in the production of aerospace precision-movement products. The life of this company is deeply linked to Mr Baldaccini who was its director in 1993 when the German multinational FAG decided to sell it thereby putting many workplaces at risk: Baldaccini and his right hand,  Reno Ortolani, who were both managers at FAG, decided to buy 100% of the shares put up for sale. From then on the company went through an unstoppable development notwithstanding the crisis: every year Umbra produces more than 40 thousand high technology screws for industrial and aerospace applications (flaps and stabilisators of the aeroplanes are driven by these components), thereby taking control of 60% of the global market. Apart from the Foligno plant, Umbra has got another facility in the United States, in Seattle (next to Boeing, an old-time partner) and another one in Stuttgart: 900 employees in total of which 700 work in the mother plant of Foligno.
The number of shareholders has increased with time, including managers and co-operators (up until today, employees possess 5%): it is a choice of running a public shares company, which is not meant to buy up liquidities but to award those who demonstrate their loyalty to the company. Furthermore, significant investments have been made in research with the Albanella Research Centre in the Province of Salerno: 12 engineers are employed full time working on innovation. That is not all: when the crisis hit, Mr Baldaccini made some courageous decisions in terms of employment like that of hiring all temporary workers: in 2013, 98% of the personnel had an open-ended contract and the number of employees grew by 100 units comparing to 2008.
Creativity, readiness to take opportunities, attention paid to research and innovation, along with the attention paid to facilities and the welfare of employees and their workplaces. Valter Baldaccini was all this and also a father who paid much attention to educate his own children to meet the great responsibility that is awaiting them now. An all-accomplished civil entrepreneur he was. Thank you, Valter, from all of the EoC!