A presentation of EoC was organised at the Escuela de Verano by Sophia University in Argentina 
by Carolina Carbonell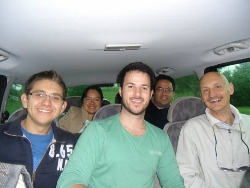 About 80 young people from all Latin American countries south of Mexico held a meeting from 6th to 14th January at the Mariapoli Lia (Buenos Aires, Argentina) to participate in the second edition of the Escuela de Verano (Summer School) organized by the Sophia University with the title "Epistemological Fundamentals of the Culture of Brotherhood".
A presentation of the Economy of Communion was planned, and since life is worth more than a thousand speeches, the programme included the intervention of entrepreneurs Germán Jorge, Hugo Mardon, Gonzalo Perrín, Raúl Di Lascio and  Blanca Pirotta, who shared their experiences; testimonies that made many - as Carla from Mexico put it - "vibrate" among those who were lucky enough to listen to them.
It is not the first time we hear of these experiences, but it is a bit like with songs: if they move you want to listen to them again and again as if for the first time. Then something wonderful happens, too: these experiences inspire others who, in other places and at other times, re-create them. So they become experiences that do not have an end...fortunately!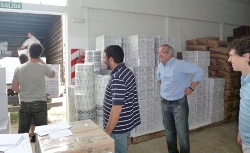 Gonzalo is the managing director of Pasticcino, a biscuits factory located at the Polo Solidaridad, in O'Higgins, Argentina. Germán is his partner. They tell the story of Carlos together with simplicity and spontaneity.
One evening, Jole, Gonzalo's mother, decided to organize a dinner in O'Higgins. She also invited Carlos for this dinner, a neighbour who had recently moved to town with his son from the Federal Capital (Buenos Aires). Carlos was a very good businessman and he was very intelligent, too. However, a few years before he had lost his eyesight because of an illness. That evening Gonzalo practically did not speak with anyone but Carlos and at the end of the evening he went to sleep with the idea of finding a job for Carlos. Those who become sleepless for reasons like this are truly admirable people...and that night he was almost unable to sleep at all...or maybe yes, in the end... The story says that Gonzalo got up and started a Google search for "jobs for the blind" only to find that among the first results there was "assembling boxes".
"Coincidentally", Pasticcino is a biscuits factory where all the produce is packed into boxes... But the most interesting thing is that the day after Carlos was already officially an employee of Pasticcino. When Gonzalo called his partner Germán on the phone to tell him the "democratic" decision he had made, the conversation went more or less like this:
Gonzalo: Hi Germán, how are you? I have good news for you.
Germán: Hi Gonza, I'm fine, what is it?
Gonzalo: Pasticcino has a new employee.
Germán: Very good! You know how much I love this type of news! (It should be made clear that offering jobs is a passion for these entrepreneurs).
Gonzalo: Then you'll be even happier.
Germán: Why?
Gonzalo: Because Carlos, the person we have just hired, is blind.
Germán: At last you are beginning to understand...
It's been a year now that Carlos has been working with this company. His colleagues gave a tandem to him as a birthday present.  Carlos likes to do sports very much.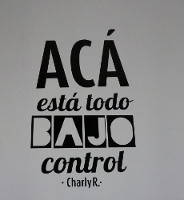 Gonzalo  says that the arrival of "Charly" - this is how they call him - had a very positive effect on all the team. Carlos' motto is, "everything's under control here". Any visitor to the company knows which one is Carlos' place because it is written on the wall.
Experiences like this are imprinted and keep fumbling in our mind and heart until one day we are ready to take make them our own. Some 300 years ago, economist Antonio Genovesi said: it is the law of the universe that you cannot be happy without making others happy.
As I returned home, I learned that a tornado had hit O'Higgins producing much damage. Such is life ... there will always be difficulties. But such is the communion between the people of the country too, Polo Solidaridad and Mariapoli continue to function; in the end that is what counts.
The EoC is very simple: give and receive... in order to give more...
Translated by Eszter Kató