Pepe Alonso, founder of the EoC company in Seville La Miniera, passed away on May 20.
By Elena Bravo and Isaías Hernando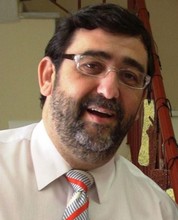 A friend ran his race;
leaving behind a trace
that we can not erase...
Says a famous Sevillana folksong, to which Pepe Alonso most certainly tripped the light fantastic more than once. He enjoyed festivities, for he knew their true and reviving power.
He left a trail of light. One of his colleagues at work confirmed, "Pepe shined his light both in bad and good times; he cared for all and willingly stretched out a helping hand... The power and the joy of life was within him. I'll never forget his beaming smile; it gave me LIGHT!"
As the EoC international coordinator, Luigino Bruni, sent a note to its members on Pepe's demise. It recalled that same light as he wrote, "He, who lives for an Ideal, is not subject to dark nights." He added that Pepe's life was "a love story between heaven and earth" that we should take as an example, like the EoC.
49 years ago, Pepe was born in the heart of a numerous and God-fearing family. In 1985 he met Ana, his wife and the mother of his two boys, Nacho and Javier. That same year he got to know Chiara Lubich and the Focolare Movement, which promotes brotherhood. He empathized with the mission and became a member.
The EoC project, created by Chiara in 1991, immediately caught Pepe's attention. It offered an opportunity to fight inequality and injustice by starting up businesses. The new companies would share their profit with people in need and increase employment. He was skeptical as he attended the first EoC conferences and meetings; for the project seemed a utopia. However, when he lost his job in a multinational firm, he decided to give it a try and answer Chiara's prophetic call. Thus, Elena Bravo, an EoC sympathizer, her husband Miguel, Pepe and Ana started up a business through generous investments of time and money. They founded a senior drop-in center in the city of Dos Hermanas near to Seville.
The start-up stage was long and complex, but what they lacked in experience they made up with perseverance. They wrote a sustainable project and built the center in two years. The contract from the district arrived the day after Pepe's unemployment benefits expired. Through their being steadfast they overcame a true trial of faith. On May 20, 2003, La Miniera was opened for the first 25 retirees.
Ten years later, on the same date, Pepe departed to heaven; a coincidence that will intrigue non-believers. La Miniera's anniversary will now celebrate Pepe's rebirth.
Back in October 2012, he was diagnosed with brain tumor. He accepted the illness with faith and hope in God. His relationship with the Lord helped him to move on and to keep up his genuine humor.
During the last months, between his family and him grew a new intense mutual love; those who met them witnessed it. Their daily acts of love filled the house with a unique family spirit.
When he last visited La Miniera, he cooked black squid ink rice to celebrate his name day with everyone in the center. It was an unforgettable moment. Everyone loved him, for he was kind, good-hearted, sincere and engaging. Hundreds of people came to his funeral and the family received countless sympathy messages. The following quotes are among the many touching words that people wrote: "I wish to die like Pepe"; "He taught us how to live"; "Each and every one of us received something special and unique from him"; "His joy and family spirit are unforgettable!"; "He would be available to listen to our problems any time"; "Pepe now belongs to all"; "He is EoC's new guardian angel"; "He has inspired enthusiasm and creativity..."; "Time and again he came up with new projects and new activities".
Ana and partners will carry on his projects. Inspired by his example they too trust in there project's deep-rooted foundations. One of the partners recalled, "We even risked our families' properties inspired by Pepe's dream, for he engaged us with his brotherly love. This dream became reality; it is the evidence of a prophecy!"
Read more about Pepe Alonso. See the interview on La Miniera when Maria Voce Emmaus visited the center in 2011.