Sometimes the vocation to the EoC comes from far: who is João Laurindo, the EoC entrepreneur responsible for the new company in the Ginetta Business Park, Movelite, and one of the founders of the drug rehab Talita-Cume Association.
By Emanuele A. Oliveira (*)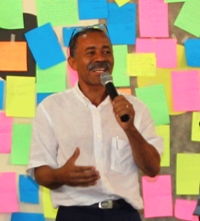 João Laurindo has worked in the field of carpentry for the past 40 years. In 1975, the just married five-year experienced carpenter and joiner decided to go freelancer in order to sustain both his wife and the 9 members of his original family. After a year of both difficulties and progresses he had already hired some assistants discovering to be a talented trainer of professionals. Since then he trained over 20 excellent carpenters from scratch. In 1978 he was able to invest in his personal and professional activities due to an increasing number of faithful customers. His work crossed a broad spectrum of furnishing projects, from entire houses and apartments to offices, reception desks, kiosks, shops, department stores, conference halls, auditoriums, churches, industries, bars, restaurants, banks, etc..
His customers come majorly from Greater Recife and Olinda. Some of them are companies and institutions such as the Government of the State of Pernambuco, the City of Recife, Compesa, Caixa Econômica Federal, Tavares de Melo Group, storekeepers of both shopping centers Boa Vista and Recife, the Focolare Movement of the Northeast, Unitur of the Northeast, Sibrasa, the construction groups Sonda, Moura Duber and Luis Monteiro Correia.
Besides business he always cared for the ones in need. 17 years ago he implemented a social inclusion project focusing on vulnerable street girls, who were many times on drugs and forced into prostitution. After a while, some friends joined in and the Talita-Cume - Menina Levanta-te Social Assistance Association was established. The passage in the 5th chapter of the Gospel of Mark (verse 41) inspired the name choice. Talita-Cume has assisted also boys and lately grown-up men addicted to drugs, particularly those dependent on crack.
Parallel to his activity as a carpenter, he is applying his training experience to develop a professional qualification course on carpentry for the young people of the Talita-Cume Association. Like this they will have a greater chance to find a job.
10 years ago, due to his particular entrepreneurial spirit, spiritual and personal life-style, one of João Laurindo's customers introduced him to the EoC and highly recommended him to do the woodwork for the Ginetta Business Park (the EoC Business Park in the Northeast). This customer called him to fix a broken furniture as an excuse to bring him to the Mariapolis Santa Maria, 30km from Recife, in Igarassu. He went and was so touched by the special environment of the Mariapolis that he didn't charge for the service. In a few days the Business Park and people from its surroundings offered him more work.
In 2006 he participated of an EoC Conference, and their he began to develop the business Movelite; he visited consultants, met with other entrepreneurs of the Economy of Communion, did some research, established contacts and partnerships... Finally April 6th the dream to inaugurate Movelite in the Ginetta Business Park came true.
(*) Emanuele works for Assaz Gestão and Comunicação Integrada, the company responsible for Ginetta Business Park's communication.