The choice made by Ornella Seca: less income in order to be able to look after employees and clients and to help those in need.
By Sara Fornaro
Published in Città Nuova N.20/2012 on 25/10/2012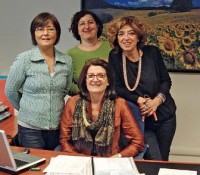 A dinner at a restaurant was the last thing Ornella Seca renounced on. We must look after our budgets and if someone prefers to lay off at the first sign of a crisis, there are also those who, as this business owner did, is willing to bring a meal from home to promote values she believes in.
We are in a little city in Central Italy. Ornella, after having climbed all the steps of the Insurance World's ladder – from secretary to consultant, from collaborator to agent –is now administering five offices for an insurance agency with 4.700 clients, providing work to six dependents and 7 collaborators. A big open family even for those in need: a choice, born in 2002 by adhering to the Economy of Communion (EoC).
Seca affirms: "My profession is the kind that is usually passed on from father to son. I did not have a father looking over my shoulder, but I have always been certain of having a 'hidden partner', as Chiara Lubich called God-Providence, who intervenes in our lives, and therefore, also in the running of a business, and who would not have left me to fend for myself." And so it was. With every difficulty – cost increases, decrease in clients, financial difficulties – an opportunity to settle the account came punctually to allow me to give a third of my profit to the needy. "A choice, explains Ornella, which was respected even when shrinking income could have justified a rethinking."
Not only. By sharing her experience, she was able to transmit the values of the EoC and the culture of giving, to other colleagues. A mission impossible? Well, no. "Usually – says Ornella - interest is shown after having discovered that the Economy of Communion isn`t philanthropy, but a real possibility to distribute profits in a more just manner."
Now the objective is the promotion of an 'Insurance of Communion'; as defined by economist Luigino Bruni. "It is an idea – he explains – which is taking form in the incubator of the Lionello Industrial Park, at Incisa Val D'arno. We are people of various disciplines who have chosen an original approach to the world of insurance, starting from the discovery of its original form: mutuality. Something new was born, now we are searching for a form to present it on the market."
These entrepreneurs are really something! Strong in their ideas, they want to find a way to make it known. The Association of Italian businessmen for an Economy of Communion was thus born (see article at pages. 34-35). "The AIPEC – affirms Ornella, who is one of its founding partners – was the missing thing: after the in-depth studies by economists and laureate thesis by students, a new instrument was needed to obtain major visibility."
But what urges an entrepreneur to choose the EoC? "The first thing – explains Seca – is "coherence". The EoC is the answer of Chiara Lubich to the poverty she saw in the San Paolo favelas in Brazil and I want to do all I can to care for those who work with me. Why think about the poor? Because social relationships must be real and just. Why can I not want for others what I want for myself? Communion among businesspeople, the kind of all-round sharing which is born out of doing things this way, can be the answer to help our country as well, which is being very hard pressed at this moment in time."