Mundell & Associates, Inc.: Managing When Faith Really Matters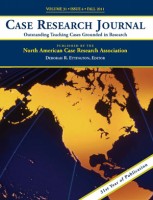 An Economy of Communion Business Case Study was recently published in the Case Research Journal, a publication of the North American Case Research Association. The case is ideal for students, academics and EoC enthusiasts looking to gain a deeper understanding of core operating principles and challenges brought about when seeking to create a culture of communion within a business workplace.
The Case is readily available for purchase online using the instructions below. All proceeds from the purchase of this case will go directly to supporting the Economy of Communion.
To Purchase the Case Study::

1. Open the XanEdu "Login/Register" page at: http://www.xanedu.com/login.shtml?PackId=374258
2. Click the Register here link underneath the "Students" heading. Complete the registration page and click Continue.
3. Confirm your CoursePack Selection (#374258), and complete the purchase form. The cost is USD $4.99
4. Choose Option 1 (Digital Access) for your Coursepack delivery. This will allow for immediate access to the case with desktop printing capability.
Questions? Please contact XanEdu Technical Support at This email address is being protected from spambots. You need JavaScript enabled to view it. or Customer Service at This email address is being protected from spambots. You need JavaScript enabled to view it.