Saturday 25 February 2012, the citizens of the Mariapolis Ginetta, besides many people of Vargem Grande Paulista-SP and of Salto payed their last respects to José Celso Becca, known to them as "Becca"
By Adriana Mendes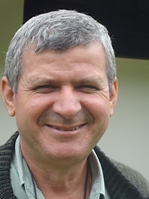 Who was José Celso Becca, as a person, businessman, father and husband, son, brother and friend who today we feel the duty to remember?
"This guy is crazy just like me. If he makes it to sell with his winning smile... we are set. He is a good person, intelligent, honest, courageous. He lives one hundred kilometers away from the Spartaco Industiral Park, has  a job, a wife, five children and does not know how to say no... because he is the Economy of Communion."
This is what François Neveux wrote in his dairy in recalling his encounter with Becca back in '94, when he invited him to join his daring business project at the Spartaco Industrial Park, which later took shape into "Rotogine."  Becca responded affirmatively to the invitation and with generosity. Alongside  François and many others, Becca was one of the pioneers of the EoC.
Born in Salto-SP on 1 February 1958, he met the spirituality of the Focolare Movement in 1981 and the following year married Maria Aparecida, with whom he had five children.  A mechanical engineer, already retired, he continued to work. For Becca, work was not just a means to support his family, but also a way to contribute to the society in which he lived, and this is why he operated with a real sense of professional ethics and efficiency, with perfect dominance of his professional competencies. The many messages that his family received on occasion of his death speak of his "generous and simple love," both "concrete and attentive."
We will mention just a few: "You could see in him the strength with which he fought to uphold his ideals, his commitment to his family and his neighbours; 
his sense of responsibility and honesty. I never heard him criticize or judge someone or a situation." Corrado Martino, then responsible for the Mariapolis together with Ginetta Calliari, recalls: "What remains with me is his witness of unshakable faith in God, the certainty of his Providence, even when human reasoning should have given in to the facts. This is how it was when he began the Rotogine [the business he founded together with François Neveux], which gave a real stimulis to the Spartaco Industrial Park and the concretization of this great inspiration of Chiara Lubich." (in the picture Becca is the fourth from left to right). In 1995 Becca wrote to Chiara: "Since you brougth the EoC to life, I have tried to not loose any opportunities to get to know the project in-depth. I am convinced that something big will come out of it, capable of changing the world. ... I live for the Economy of Communion in Brazil and in the world. I can tell you that today my name is 'Economy of Communion.'"
Becca did not only give life to the Economy of Communion, but he also knew how to loose it by offering it as a gift, so that others could bring it ahead: this happened when a new partnership was necessary in the Rotogine, and he had to leave the business.  And he did it with humility, without showing even a bit of struggle – as shared  Armando Tortelli, president of the National Association for the Economy of Communion in Brazil. Becca was convinced that this was the will of God, and this is what mattered to him.
During his period of total commitment to the EoC he wrote to Chiara Lubich,  asking her for a phrase from the Gospel that would serve as a guide for his life. She responded by choosing this sentence from the second letter to the Corinthians: "Whoever sows genenously will reap generously" (2Cor 9:6).  The many witnesses that we are arriving in these days all confirm that Becca was this living Word!
Eustáquio Rosa, who lived with him a few years in Brazil, said: "... I thank God that I was able to live with Becca: he was like a brother, always attentive to doing big and small acts of love. Thinking of all that he did for the people who were helped through the Economy of Communion, I think that Our Lady must have welcomed him with great love and brought him close to Chiara and all those who, like Becca, found light  for their lives in the charism of unity."
Becca's illness, its quick progression and his passing, surprised everyone: acute lukemia, with a fast deterioration. It began with a simple sore throat and then came  inflamed lymph nodes, his transfer to a specialized clinic, and the news of his death. It all happened within a week! There is no doubt that we still have much to discover about this wonderful person Becca, and it will not be easy to gather all the good that he has sown, lived and built with his life.