At Augsburg, an EoC pilot project of Contecta Immobilienverwaltung GmbH brings savings of 88% on energy costs in a residential complex
by Winfried Baetz-Braunias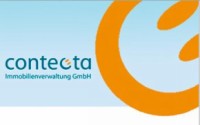 ""Improving energy performance of a condominium complex is a real challenge. Decisions and funding must be approved collectively by the entire community of owners," says Thomas Hüttl, EoC entrepreneur and owner, with his wife Christine, of Contecta Immobilienverwaltung GmbH in Gersthofen near Augsburg in Bavara.
Contecta, with nine collaborators currently administering approximately 2,500 homes in the region of Augsburg and Dresden, received a €15,000 prize for energy innovation from LEW, a regional producer of electricity, for a complete energy reconstruction of the first of 18 buildings of a residential complex built in 1954 located in Augsburg.
The jury's motivation states that, "it is thanks to the personal and constant commitment of the director if a community of owners has taken step by step and collectively, the energy reconstruction of a condominium complex. In fact, it is to be noted that it is not just about making a joint decision by 24 different owners."
The energy budget obtained with the challenging improvement measures (investment of € 634,000) is spectacular:


• 88% reduction in the consumption of energy for hot water and heating
• Savings of 354'000 kWh / year
• 75% decrease in energy costs
• Annual reduction of 69,000 kg in CO2 emissions
With the LEW prize for innovation in climate and energy, they have been awarded for providing sustainable protection of the environment and contributing to the success in the energy sector. The essential evaluation criteria are:

• degree of innovation
• contribution to climate protection and energy efficiency
• profitability
• applicability to other companies or municipalities (functional sample, character model)


The jury, in addition to the major newspaper of Augsburg, was also present including representatives of the Chamber of Commerce and Industry, of the university and high school in Augsburg.
"This award was also a wonderful opportunity to address the topics we hold dear here in Augsburg. This success is due not only to our know-how but also the work of God through us. This is a good sign and a confirmation that we are on the right track," says Christine Hüttl.
For 20 years, the two EoC entrepreneurs Thomas and Christine Huttl's commitment to the environment and the common good is as important as a good business environment. So each year they offer their employees a comfortable weekend with a cultural program that gives an opportunity to improve communication. It is not always easy with both tenants and owners among themselves, discussing issues on which they never had time to do during the year. In addition, they always provide a place for people who cannot find jobs easily, because of their age, poor training or health limitations. "In this way, we found so many valuable employees but also, of course, had to live with some disappointments," says Christine Hüttl.
Contecta can be considered one of the best building administrations in Germany. In fact, at the competition for innovation in the German association property management, the EoC company was awarded first place as "2002 Building Administrator."