There were great interests in the Rosignano Marittimo "straw" Library project that was presented by the EoC business in Turin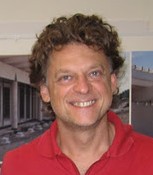 The new Rosignano Marittimo Library, created by AREA PROGETTI, the EoC architectural firm of Turin in collaboration with Una2 of Genoa, was one of two Italian projects selected to be presented at the World Sustainable Building Conference. The event, held at Helsinki from 18 to 21 October 2011, brought together architects from around the world and many were of academia, engaged in new technology research to make new constructions more sustainable.
In the architecture world panorama, Rosignano Library has aroused great interest in the use of straw as insulation and cladding, and the complex system that takes advantage of the natural ventilation breeze, typical of the seaside, greatly reducing energy consumption.
The building, now nearing completion, is also characterized by its careful placement in the environment, creating a green dune for sound insulation from the railway network,
covered road where citizens often go and a roof garden to give back to the green environment. The architecture, strongly characterized by its chosen technology, allows citizens to have full access to the services offered by bringing closer the various functions available.
AREA PROGETTI has been designing works for more than a decade in Italy and abroad, giving particular attention to environmental sustainability and architectural research, even under the pressure of the values that characterize the Economy of Communion to which it adheres.