An EoC company study case for the international scholars
Mundell & Associates Inc case study soon available from the Harvard Business School Press
by Marta Pancheva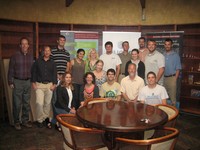 After being published in the Case Research Journal of NACRA (The North American Case Research Association), the Mundell & Associates Inc teaching case study authored by Jeanne Buckeye, John Gallagher and Elizabeth Garlow, is going to be distributed also by the Harvard Business School Press. In this way in the fall of 2012 "Mundell & Associates Inc:  Resolving the tension in a Culture of Communion "  will be available in the largest and most used in classrooms around the world network of case studies.
This can be seen as an important step towards bringing the Economy of Communion model to a greater number of teachers, scholars and students allowing the reflection at the academic level on the dynamics that characterize such a model. The Mundell & Associates' case can become a valuable reference for all those who ask themselves of the hallmarks of the EoC business that operates in the for-profit sector but, at the same time is engaged in a project whose goals go far beyond the creation of profits.
As a company operating in a highly competitive and requiring technical expertise sector such as the environmental consulting, the enterprise founded by John Mundell in 1995 with the challenges faced and the successes gained, can be seen as a live laboratory of the "culture of giving" promoted by the Economy of Communion.