Gonzalo Perrín is the director of Pasticcino, one of the companies of Solidaridad EoC Business Park – the expansion of the plant has barely been finished and he is already embarking on new projects.
by Carolina Carbonell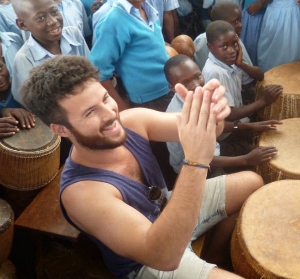 As he cut the ribbon inaugurating the new additions to Pasticcino, Gonzalo Perrín first thanked everyone present, and especially the 19 employees who make up the team, then he told a story that he had never thought he would reveal about the contract with Starbucks (which has become the first multinational client of the company by now). "One day a group of Japanese people came to visit the Mariapolis Lia. No one knows why they came here. I was with my father and Germán Jorge when they called us to welcome these people who were interested in the Economy of Communion: we met them and, typical of the Japanese, they wanted to know all about the factory.
After the tour one of them (Nelson) called me to himself and told me: 'Gonzalo, do you know that I am a friend of the CEO of Starbucks?' I could not believe it, years before I had sent many e-mails to them, without any answer. So I half-jokingly told him: 'If you help me to have a meeting with him, you will be my best friend!' So it happened. It was not only about having a meeting with him: in fact, Nelson gave me the key to being successful, because he suggested that I tell him how I had begun to make cookies in the kitchen of my house, and also about the EoC. And the meeting ended up being spectacular."
Gonza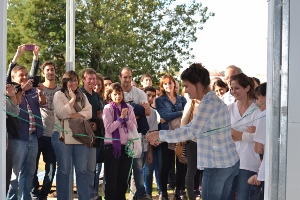 lo Perrín is 31 years old now. He has been directing Pasticcino since he was 24. It was installed in the Solidaridad Business Park in the city of O'Higgins, Buenos Aires. Pasticcino produces 3,200,000 biscuits a month and distributes to 25 chains of coffee shops and coffee roasters.
His studies at Rosario were aimed at the tourism sector, but when he met the Economy of Communion he got infected by its philosophy and did not hesitate to join the Pasticcino project.
The EoC Solidaridad Business Park consists of 34 hectares of land, in which companies engaged in making economic activity a space for encounters and communion have been working since 1991.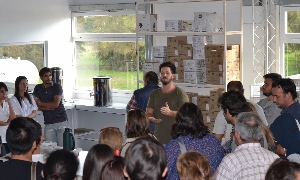 Today, Pasticcino is one of more than 50 companies in Argentina that make this way of production effective, promoting loyal relationships and trust, living and spreading the culture of giving, peace and legality, paying attention to the environment in and outside of the company.
To the question about how he started, Gonzalo often says: "In 2008 we started to make biscuits in my house, in my mother's kitchen, and we were there for several months while the premises and the machinery of the company were being installed."
What did you see in the EoC?
Do you know that I was asked this question during an interview with McDonald's? I told them: 'I have friends who love each other, you can see that they are happy and this means that what they realize is a success in their lives.'"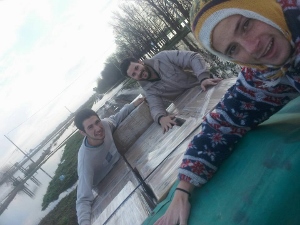 Today Pasticcino with its 19 employees is the main source of work in O'Higgins, a city which has less than 1,000 inhabitants. When asked if he wants to move the factory to another place, for a more strategic location, with new services, with better access roads – asphalt covered and without danger of floods - Gonzalo says, "I chose to stay at the business park, in the midst of the country. I feel that I have to be here... ".
All this radicalism of his has also got him to receiving the prize of "Young businessman generator of jobs" in July 2015, organized by the Undersecretariat of Small, Medium and Micro enterprises, under the provincial support program for young entrepreneursthe Ministry of Industry, Science and Technology of the province of Buenos Aires.
The enthusiasm that flows in his veins has also convinced him to embark on the EoC project called "Pasticcino Brazil" together with its partners and other entrepreneurs. The aim is to open a factory, at Spartaco EoC Business Park of Cotia (SP, Brazil), too: in these days the first machines are already arriving there. The first exports are also coming up in Uruguay and Paraguay.
If a person does not give up their vocation and receives and accepts the call, they can inspire others, anywhere in the world...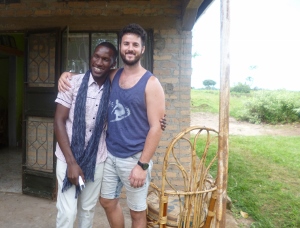 In June 2015 Gonzalo paid a visit to an African community in Masaka (Uganda), and there he met Henry, a 22 year-old young man who was a student of economics and a budding entrepreneur producing seasoning for meat, poultry and fish. His gaze of an entrepreneur noticed that the product designed by Henry has what marketing textbooks would define as the main components of a good deal: a good idea, attention to detail and the quality of the product. But what Gonzalo finds more surprising is the packaging. Despite the simplicity of the design of materials and the label, all the creativity and responsibility of those who begin their career by vocation seem to be accumulated in this packaging.
It only took a few minutes for Gonzalo and Henry to become friends: to make it a solemn moment, Gonzalo gives his scarf to Henry, and invites him to come to the Solidaridad Business Park. It would be a project to realize, as soon as Henry graduates from college.
Why are you an entrepreneur, Gonzalo?
The most precious thing that I have is the relationships built over the years, with my employees, suppliers and customers. I do not know how long the company will be running, whether for 10 or 100 years, but once it's finished, the relationships will still remain. Those are the most valuable assets I have."
How did it go with Starbucks?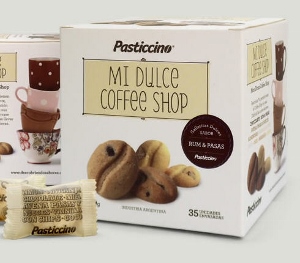 We have a great relationship: we work together, looking at the products together and we were lucky that the "Christmas Cookie" we produced for them last December was the first in the sales of all Starbucks products, surpassing even the unbeatable ginger pudding!!!
Before finishing this note, I asked Gonzalo if he had anything to add, a thought about what he is experiencing, almost hoping for a surprise...
"To tell you some news... Today I wrote a letter to the governor of the province of Buenos Aires, María Eugenia Vidal to invite her for the official opening of the new facility, telling her who we are, what we do, where we are, what our plans are and where our dreams are taking us. The nice thing is that I thought up this invitation with an EoC friend of mine, Francisco Bukhara, who works in the industrial area of San Nicolás, another town in the province of Buenos Aires. Every time you talk with Fran, some great dreams emerge..."
Gonzalo has a way of approaching the business that I find extraordinary and I admire it deeply. The entrepreneurs who cannot even conceive the option of giving up their most cherished values are the best entrepreneurs that may exist.