The Complex Projekt has been projecting roadways and bridges for thirty years in Katowice, Poland. The story of one business owner who runs his company according to the principles of the Economy of Communion.
by Redazione web
published in Focolare.org on 02/07/2015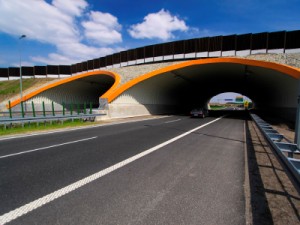 Everyone who experiences its effects says that the Economy of Communion (EoC) is a way of life, more than a way of running a business. And it is precisely for this reason that the most diverse businesses decide to administrate their activities in the full spirit of the EoC. Complex Projekt, which is in the business of projection and construction of roads, motorways and bridges, is also an EoC.
In 1990, when the EoC began in Brazil, the business was in trouble. The removal of the communist regime raised strong doubt and uncertainty, and the transition to a capitalist system generated constant questioning and mistrust. The very concept of private property created uncertainty and discomfort in entrepreneurs.
Andrzej Miłkowski, president of Complex Projekt, discovered the answer to "freeing himself from the pressures of private property" in the EoC. Thanks to the EoC, he found that he was "merely an administrator" and that "the business owner was God."
This made Milkowski realise that what mattered most in the business was its human capital, and that good management depended on the values one believed in. For him, they were the values of the Gospel put into practice by applying the teaching of St. John Paul II: "to be, rather than to speak". This kind of talk can sound far removed from the real business world, but in the long run, in Complex Projekt, it actually made the difference.
"Our work consists of creating complex infrastructure projects, and that carries a great responsibility," Milkowski explains. "In the EoC proposal I found the interior freedom that was needed and the distance from myself, values which led me to no longer make decisions on my own, but through shared understanding. Such decisions then prove to be just right for growing the company." Milkowski describes how colleagues and personnel strive to base their life on mutual respect as they strive to create a climate of trust and giving priority to interpersonal relations. The internal regulations include the Golden Rule, a version of which can be found in the sacred texts of all religions: 'Everything that you want others to do for you, do also for them'. It is "understood as an opportunity," the president explains, "offered to each employee for them to freely decide."
Two years ago, Andrzej Milkowski began handing over the administration of the business to his son, Stanislaw. This generational transition is also being carried out in the light of the values that have been acquired over years. Andrezej reflects: "I think it is a result of the working lifestyle that all of us in the business, personnel and administration, receive from God. If we make even a small attempt each day to live the values of the Gospel," the Polish businessman concludes, "we receive 'something more' from the Creator, a greater capacity even in front of things like project planning, professional and family difficulties which can be listened to and discussed. This is how we build the Kingdom of God . . . and the rest will be given us as well. We experience it every day. Indeed, in spite of the economic crisis, the business continues to grow and develop."