Now the Roberto Tassano Consortium has a new protector in heaven
Thanks Andrea!
By Antonella Ferrucci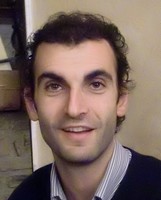 This morning, January 11, a 7:30, Andrea Menini flew to Heaven. This is how his friends from the Roberto Tassano Consortium, who have accompanied him during these months of a difficult illness, never leaving him without "family" around him. 
Andrea was an associate of Roberto Tassano Consortium, where he worked in the administrative offices since 2001. During the last few months, with the first signs of a serious illness, he lived an experience which he described as a gift or a miracle of God: "after the first initial moment, I have always felt calm and secure that all that was happening to me was, yes, a personal experience, but that I would not be alone in living it because I was certain that the sincere support of my colleagues of the Consortium would give me strength and courage in each moment..."
This feeling as "one", as part of a group of people and friends who, beyond different opinions, are a big family that faces joys and sufferings together, gave me the strength and serenity that I never thought I would have. I've known the Focolare for almost ten years, when I started working at the Tassano Consortium, but I didn't think that I had accumulated such an immense treasure built of the love that has reached me during these months, through simple text messages, phone calls and unexpected visits from colleagues and 'managers', who took away their precious time to visit me."
Andrea passed his serenity onto others: a physical therapist who had him in her care during these months told a colleague about this young man who had caught her attention for the look in his eyes, for his large and transparent eyes. At Christmas, Andrea responded to a text message from Franca and Giacomo Linaro: "My heart is not big, but it is able to hold all the Love that you give me and which I keep as a treasure, especially in difficult moments. I care about you and Giacomo a lot. A hug, Andrea." Fr. Andrea Fasciolo, chaplain of the Galliera Hospital of Genoa, circulated this text message this morning throughout the hospital, convinced that it will bring good. "Yes, it will do good," says Franca Linaro of Roberto Tassano Consortium, "because there is that sign of the charism, the EoC lived, within it that attracts and always works in the hearts of those that welcome it."
Andrea wanted to share his "treasure" with everyone. His testimony can be found in the N.32 Newsletter which is on its way. You can read it online.