Last December 22, one of the founders of the EoC company "La Tunica", the first company to be installed at the Polo Spartacus left us.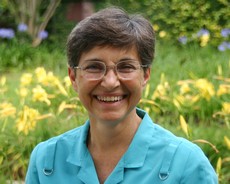 'I wanted to form a stable family that could make a contribution to humanity.' A dream come true during the 72 intense years lived by Maria do Carmo Gaspar from Brazil, one of the pioneers of the Economy of Communion.
She was born in Araraquara (SP, Brazil) in 1942. She got married to Rosario at a young age. After a few years they achieved a good social and financial position.
'But,' as she herself explains, 'little by little I became too fond of my own ease. I became insensitive to the spiritual dimension, and gradually our marriage got into a crisis.' It was at this time that she came across some people bearing witness to the fullness of life lived according to the Gospel. It was a light that revolutionized her life and that of her family. Around them, a living community was born. Then, suddenly, an accident claimed the life of Rosario, her husband.
She decided to contribute to the construction of the Mariapolis Ginetta (Vargem Grande Paulista, SP) and she went to live there with her children, leaving her home and comfort in Araraquara behind, while in the little town that was still being formed, there wasn't even electricity, water or telephone at the time. Much could be written on the various fronts to which she gradually got committed: in the field of family, youth, politics, as a collaborator of the magazine Cidade Nova. Here, we limit ourselves to the field of economy.
She was present in the hall of the Mariapolis Ginetta, when on 29th May 1991 Chiara Lubich lancia
launched the Economy of Communion. She heard the call to contribute to the realization of this project. She herself tells about it: 'I immediately wrote to Chiara saying that I had nothing to club together in order to start to do something like she had proposed, but that my life and my strength were all available.' Believing in the prophetic greatness of this project, Maria do Carmo faced a new challenge: with a small group she launched herself, body and soul, into the first enterprise that took office in Polo Spartacus: "La Tunica".
Among the hundreds of messages sent at the time of her departure, in more than one Maria do Carmo is described as "a warrior of love". Adriana Mendes, who now works at Anpecom (the Association of the Brazilian EoC entrepreneurs) writes: 'I had the joy of working with Maria do Carmo in "La Tunica" for three years. From the beginning I found her a person of great finesse in treating every person, as there was no difference made between a VIP on a visit to La Tunica and the last of the employees. The company was a reference point for the many who wanted to know the novelty of the EoC, so visits were frequent, but Maria do Carmo did not change her attitude because she always smiled, was attentive to all needs; at the same time she showed great entrepreneurial ability.' She describes the atmosphere of the place in more detail: 'In the beginning, the company settled in a small room, which was damp and dark, it had very few resources, yet, going to La Tunica was like a "magical" feeling of being part of an ideal that embraced the world as if time and space really did not matter because she let us, all of us, collaborators, have this experience.'
Just to tell one of the many experiences of those early days, let us recall what
Maria do Carmo said at a Congress in 2002: "(...) At one point, having lived a delicate moment, one of those you usually have at the beginning, (you can imagine, we were little...), we wanted to establish ourselves in the first facility just built at Polo Spartacus. We realized that we were able to have little earnings and for us it was logical that they would be put in communion. However, in fact, we did not have the money in our hands. And while we thought how to do this, just in that same week, we received the confirmation of an order from a school for which we produced uniforms – but on this occasion the school placed an order for a number that was four times more than we were accustomed to. For us it was God's answer: He really looked at us and even before we put money in the hands of the poor, He already made sure we would get some more."
Maria do Carmo has made her contribution to the EoC in various ways, for example by being member of the Council of the ESPRI (the company that manages the Polo Spartacus) or by participating in organizational team meetings and training conferences. One can get a sense of her soul from this project, reading what he said at the opening of one of the monthly training schools for entrepreneurs held a few years ago at Mariapolis Ginetta: 'We know very well that the answer (to the project) is bold and that the difficulties we find are too many, however, the ideal is great, the prospect is really wonderful, and if we manage to make even a small step, we will have already built something important for the future. I think that we are not the only ones to expect the results but it's the whole of humanity to await them. So let's commit ourselves to the job taken up each time: being here is a reciprocal force and together we can make it grow.'