Many appointments these days in Lombardy
EoC Entrepreneurs Meet Together and with Others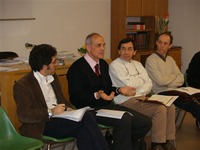 In the last few weeks, EoC entrepreneurs of Lombardy were able to meet with one another at Frontignano di Barbariga (BS), after the appointment in Gussago last September. Then, there are three other upcoming occasions to point out, in which some of these entrepreneurs will have the chance to share their experience with others:
- Besnate (VA), Friday 05/03/2010
- Sermide (MN), Wednesday 10/03/2010
- Cremona, Friday 19/03/2010.
Last February 20-21, EoC entrepreneurs from the Province of Lombardy and Novara and Verbania set a date in Frontignano di Barbariga (BS). After a similar appointment in September of 2009 (and a few afternoon meetings at the various businesses during these months), it was time to meet again all together (30 participated). The meeting was characterized by an intense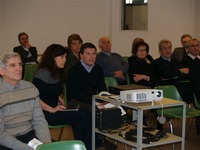 dialogue over the founding aspects of the project (sharing experiences after reading "The Guidelines for Running an EoC Business", dividing profits). Benedetto Gui was also able to participate, opening the horizon to a global dimension, as well as Cesare Pastore, who reviewed the various aspects that link the businesses to the Polo Lionello Bonfanti Industrial Park in Loppiano.
On Sunday afternoon, the meeting "opened up" to a dialogue with people who are interested in knowing more about the project through the experiences of entrepreneurs.
And there are more chances coming soon to continue this process...
A few details on the three upcoming appointments:
5 March 2010, 20.45
Cinema Teatro Incontro
Via Paolo Rosa 5 - 21010 Besnate (VA)
"The Layperson in the Working World: Experiences of entrepreneurs and employess" (experience of Marco Poma and two others)
10 March 2010, 21:00
Cinema Capitol
Via Roma 18 - 46028 Sermide (MN)
"Trials of the economy of communion" (expeiences by Giovanni Bertagna and Giorgio Zubani, presentation by Lidia Zubani)
19 March 2010 21:00
Oratorio Sant'Agostino
Piazza Sant'Agostino - 26100 Cremona
"Economy and Fraternity: Can They Coexist?" (experiences by Pierangelo Magistroni and Giovanni Faccioli)