An international convention promoted by the departments of Historical Philosophy and Cultural Goods, Human and Social Sciences, and Economy of the University of Trent
Chiara Lubich: from Trent to the World, the impact of a story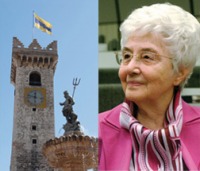 February 25-26, 2010
Sala della Cooperazione
Via Segantini 10
Trent
Two years after the passing of Chiara Lubich, the university in her home city intends to dedicate a moment of scientific reflection to this illustrious citizen and the work she brought about. Starting from the presumption that this exceptional, internationally-known figure began in the Trentino context, Trent´s University of Studies has taken the initiative to analyse the thought and work of Chiara Lubich to catch their diverse facets. scholars from the historical, sociological, economical, philosophical and theological backgrounds will examine her thought and work, and at the same time her commitment on the plane of relationships among peoples, in building a path towards peace and dignified cohabitation, as is affirmed in constructive interreligious dialogue.
Besides scholars of the University of Trent who do research in these areas, presentors of unquestioned intelligence coming from various countries will also give their contributions. At the end of the working sessions, a round table discussion will be held in which the thought and work of Chiara Lubich will be contemporaneously weighed from various visual angles: sociological, philosophical and theological, and also those of economy and education.
In particular, the second session of the program, in the afternoon of February 25, will be dedicated to the Economy and communication. Among the interesting reports on the Economy of Communion, we would like to highlight those of Stefano Zamagni (University of Bologna), "When the Gaze of a Charism Sees Beyond Profit: the Peculiar Novelty of the Economy of Communion"; Andrea Leonardi (University of Trent), "Experiences of Mutuality and Solidarity and the Economy of Communion"; and Gabriella Berloffa (University of Trent), "Efficiency, Competitiveness and Solidarity in the Economy of Communion". Luigino Bruni (University of Milano-Bicocca) will participate in the concluding round table on February 26.
See
website
for the following documents in English:
For information, contact: Convention, Periodical and Internal Communications Office of the University of Studies of Trent:
tel. +39 0461 283228-3225-1133 e-mail:
This email address is being protected from spambots. You need JavaScript enabled to view it.
Participation in the event is free. For organizational motives, your online registration would be greatly appreciated. Follow this link