Interview with Maria Tersa Fumi, president of the Poliambulatory Cooperative RISANA
RISANA: bringing reciprocity and communion to healthcare
By Antonella Ferrucci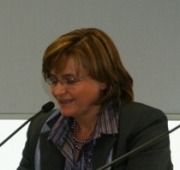 On October 24, the Poliambulatory was inaugurated at the Lionello Bonfante Industrial park. Can you tell us something about it´s story?
RISANA was born in February, 2008. It currently has twenty associates and it´s adherence to the Economy of Comunion project is one of it´s particular characteristics and founding elements. Attention to those in need, to formation, to development of the business itself and the search for a model of participative management are the cornerstones of the cooperative.
Since 1998, a dentist studio in Incisa Valdarno has been the vehicle which gave professionals linked to the small town of Loppiano direct contact with the local area. Thanks to positive word-of-mouth references, the studio´s number of patients has reached over 4000 in the last 10 years. Now, the chance to merge an already existing reality in the new healthcare structure at the Lionello Bonfanti Industrial Park has given the cooperative the solid foundation necessary to open offices on the first floor of the Lionello Industrial Park.
Why did you choose the Lionello Industrial park for your offices?
The Lionello Bonfanti Industrial Park - as a place where experiences, ideals and aspirations linked to the Economy of Communion converge - seemed like a place priviledged to spread ideas, almost like a "window" that can multiply the effects of the individual forces of numerous medical professionals that have already been trying to live their profession in light of fraternity, thanks to their adhesion to the ideals of the Focolare Movement. From there, the idea of a poliambulatory that proposes to "give space" to professionals who live communion as the leit-motiv of their professional behavior, with the possibility for formation, exchange of experiences and professional internships. The principles of the Economy of Communion also provide theoretical support on the economic plane, regarding models of participation and co-responsibility, which they intend to put into action. On the other side, the culture of giving – and consequently the need for economic action open to solidarity - opens the center up to a vision of sharing which, in the healthcare field, is laid out with various challenges. These include accessibility to service, quality of services, a wide vision of social health problems on the local level and beyond, with initiatives that look at technical and economical support to areas in emergency situations or to developing countries.
Before choosing to start a poliambulatory like RISANA at the Industrial Park, did you do some research on the local territory?
Certainly. Between September 2006 and February 2007, more than 1000 questionaires were distributed in the Valdarno Florentine Basin in order to pin-point healthcare priorities expressed by the social fabric, paying particular attention to assistance and formation. The 600 families that responded showed extreme interest in having a health "center" with specialists, located in the area of Incisa Valdarno, as there is nothing like it in the area. Plus, a few meetings with general doctors - those who would be in the front-line to take on the responsibility of the healthcare needs of the population of Incisa Valdarno and surrounding towns - highlighted a positive attitude towards a poliambulatory.
Why did you choose to be a cooperative?
We saw that the form of a cooperative was the most adapt type of society for our needs and the type of project we´re proposing, because:
1. becoming a cooperative means putting ourselves together, unifying our forces, work, capacity, initiative and savings to reach our common goal.
2. in leaving aside the typical role covered by a poliambulatory, all associates can share the same ideal or cultural and social walk, and in full participation.
What does it mean today to be person-centered in the healthcare environment?
Before everything, it is necessary to find ways to participate in the management of services, so that the entire team places the person at the center and therefore provides assistence that is supported by the involvement of all personel. In recent years, there have been deep changes in medical work because of increased technology, the parceling out of services, and the transformation of healthcare into a business. This mutated context has been strongly felt in the relationships with patients and also among healthcare workers. We think that knowing how to communicate and enter into relationship with the other, whether a colleague, a healthcare worker, a patient or family member is fundamental for living the profession in a way that responds to today´s expectations.
How can you bring about "reciprocity" in the healthcare environment?
In healthcare, reciprocity requires cultural humbleness and the desire to enrich one´s own vision and understanding of the facts, also knowing how to lose one´s own opinions in the exchange with the other. A similar attitude can offer the varied world of medicine, particularly among workers, new paradigms for working in a team.
Describe the structures of RISANA today?
Besides the common areas (reception, waiting room, services) and the private areas for personel (changing rooms, storage, offices, etc), there are 5 dentist studios (plus a sterilization zone), two physical therapy rooms and other areas dedicated to specialist medical studios. Since September, we´re officially authorized to offer dentistry as the Poliambulatory RISANA. As RISANA Medical Studios, we host specialists from the most varied disciplines who share two examining rooms. Plus, there are two physical therapists that use the two designated areas, as well as a speech therapist and a pysco-motor therapist.
Are there plans to expand services in the near future?
Yes, we would like to add:
- radiology and multifunctional ultrasound scanning
- house visits, for both healthcare and social services
- a center that guarantee´s research, quality and continuity of staff dedicated to elderly who are no longer self-sufficient
- a support center for families of dementia patients
- health transportation services.
And another one of our important objectives is to put ourselves in contact with all the local realities and associations that already act very profitably in the social-healthcare sector.
Does RISANA have it´s own "list of values"? How do you choose your collaborators?
We´ve elaborated an "Ethics Pact" that clearly states the fundamental values that those who work at the poli-ambulatory put into practice. The document could be the criteria for including workers and professionals who want to collaborate, so that the style of relating among collegues and with patients be unambiguous. It´s understood that they are values which each one commits himself to continuously strive towards in interpersonal relationships. This dynamic requires one´s availability to be evaluated and to self-evalute, and it including moments to compare notes, exchange, and to dialogue deeply until the working environment is tinged by this participatory relationship.
Is there anything else you would like to add?
Ideally, our wish is to link the new healthcare structure to Chiara De Los Angeles Nembrini, who followed the initial stages of the future poli-ambulatory while working with our team. In September of 2007, she gave her life giving birth to her fifth child, whom she had awaited with much joy as a new gift for her beautiful family. Her welcoming, sensibility, concrete intelligence, her smile, her readiness to take up every need for who passed her by - these remain with us as a great source of light. The Gospel frase which she had as a motto was: "And the light shines in the darkness". Now, precisely in the healthcare environment where we work, we want to continue to make that light shine by looking at every person and every life as a supreme good for which we want to spend ourselves 100%.
We cannot finished without giving a special thanks to Chiara Lubich. When she found out about our project in February, 2008, during the last month of her life, while in the hospital, she encouraged us. She said that the birth of a new poli-ambulatory in the industrial park gave her joy, and she proposed the name RISANA, encouraging us to go ahead with the plans. We feel that, more than ever, she is with us as a source of inspiration, courage and trust.