Experiences at the workshop in France that recently concluded reveal a growing  awareness of the important relationship of communion between entrepreneurs and the poor in the EoC project
by Chantal e Josè Grevin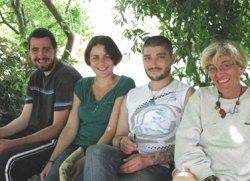 In the Village of St Joseph a week long workshop with the theme of "Creating businesses for the Economy of Communion" that was organized by French EoC entrepreneurs has just ended. It was intense: we worked on practical projects to set up businesses in the spirit of the EOC within the village and based on existing businesses (mosaic workshops, manufacturing products for gardening...).
Our team of 8 people was composed of young participants from the EoC workshop and some residents of the village. Throughout the week we worked to fully adhere to the rhythms of daily life in the village (from moments of prayer, communal meals, vigils followed by testimonials ...).
The residents of the village are people injured within, such as those who have experienced addiction to alcohol or drugs, or have lived on the streets... They are now "rebuilding" their lives thanks to community life in the village and the communal life of prayer that follows each day. Even the young people that came to the workshop are injured from what they experience in their own firms. We all experienced a strong communion that has overwhelmed us.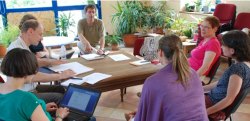 The workshop helped us discover some of the essential aspects of the EoC's connection to the "poor" and the relationship of communion between entrepreneurs and the poor:
- Work is an essential start on the path to healing and regaining dignity;
- For many residents "business" is synonymous with suffering: the world wounded them, so they feel excluded from it and experience revulsion to it and reject it;
- They consider the EoC project attractive because it opens the door for them to reconcile with businesses;
- In the new companies to be created, the work of each one, effective or not so much, is considered to be the bearer of equal value, because each one makes its contribution: thus, fraternal communion among all becomes very real.
-For companies created in the future, everyone's work, effective or not, will be considered equally valuable; each person makes their own contribution, and recognizing this makes fraternal communion reality.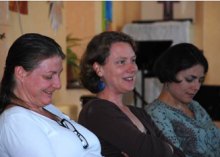 Therefore, the EoC cannot be based only on "new men" entrepreneurs if there aren't "poor", who are already "new men." At the Village of St. Joseph we met these "poor" who were renewed and saved by the Life of the Word. Some of them feel called to the EoC, just like the entrepreneurs who became entrepreneurs without wanting to be, and see it as a chance to get back into the economy.
The Village of St Joseph as a community participates fully in the EoC not by the sharing of profits, but by valuing the resources of the poor: the sober lifestyle, the quality of fraternal relationships, forgiveness, trust in Providence, the equal value of an individual's contributions...