From 11 to 15 September 2013: Save the date!
MEET#SHARE#CREATE#CHANGE@EOCSUMMERSCHOOL2013
A new economy for a united world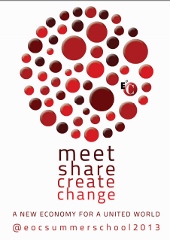 11-15 September 2013
Centro Mariapoli Luminosa
Poniente 33
28290 Las Matas (Madrid)

MISSION
If you are a student or a young entrepreneur (from 19 to 35 y.o.); if you are thinking at your professional future; if you believe that a new and humane economy is not only possible but necessary; if you are interested in social economy…, this Summer School is for you. MEET young people from all over the world; SHARE ideas, concepts, experiences, dreams; CREATE new projects, new relationships, a new vision; CHANGE the world, the economy, starting from the reality around you.
PROGRAM
A detailed program will be published shortly, including lessons and workshops. Some of the topics will be: social entrepreneurship, employability, development, poverty, gratuitousness, reciprocity, happiness… in the light of the new paradigm emerging from the Economy of Communion.
OFFICIAL CERTIFICATE
We are drawing up an agreement with a Spanish University in order to recognize the qualification of the Summer School and to issue an official certificate to all the students that meet the requirements.
LECTURERS
Some of the lecturers will be: Luigino Bruni (Istituto Universitario Sophia and Università LUMSA, Rome, Italy), Luca Crivelli (Università della Svizzera Italiana, Lugano, Switzerland), Vittorio Pelligra (Università di Cagliari, Italy), Anouk Grevin (Université de Nantes, France).
There will also be some local and international entrepreneurs, as Teresa Ganzon (Bangko Kabajan, Manila, Philippines
LANGUAGE
The official language will be English.
PROMOTER
The Summer School is promoted by the Economy of Communion International Association (AIEC), in collaboration with other local and international organizations and institutions.
LOCATION
The school will be held at Centro Mariápolis Luminosa, near Madrid, Spain, from 11 to 15 September 2013. The organization will provide accommodation and meals at a reasonable price.
MORE INFORMATION
This email address is being protected from spambots. You need JavaScript enabled to view it.
… soon in the main social networks