The EoC project represents a novelty in the economic field but also in politics and philosophy. In fact, it affronts crucial topics which are at the center of contemporary political philosophy.
The Economy of Communion and Global Justice
By Vittorio Pelligra
From "Economy of Communion - a new culture" N. 30 - December 2009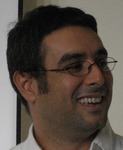 The most important work in political philosophy during the 1900´s is definitely A Theory of Justice (1971), by American philosopher John Rawls. As a point of reference for all who deal with political philosophy matters, even indirectly, the Rawlsian theory has naturally attracted a certain amount of criticism as well. It seems to me that two of these are worth addressing. I would like to discuss them here, above all because they relate problems of great theoretical and practical relevance to the Theory of Justice. Such a discussion will also allow us to begin to define a wide backdrop on which to consider what are, in my opinion, some of the more interesting characteristics of the Economy of Communion project.
The first point regards the position originating initially in the area of feminist philosophy and which centers on the problem of "outcasts". Rawls´ theory of justice strives to define two key principles: "liberty" and difference. The first affirms that "Each person has an equal claim to a fully adequate scheme of equal basic rights and liberties, which scheme is compatible with the same scheme for all," while the second establishes that "Social and economic inequalities are to be...to the greatest benefit of the least advantaged members of society." According to Rawls, these principles are attainable through the stipulation of a social contract, which forms the foundation of a "well-ordered" society.
Such a vision centered upon the concept of contract is based on the idea according to which men find themselves as part of society to reciprocally exchange benefits, and the social contract is non other than the seal of such an agreement. But here is the first problem: it is easy to understand that not all citizens are in the condition to be abel to give something within an exchange, if you think of a seriously ill patient, a newborn, a psychologically disabled person, or even a person in extreme poverty.
As such subjects only have needs and have nothing to give (apparently), then they are not called to sign a social contract; they are the so-called "outcasts". Such a conclusion, according to some, transforms Rawls´ approach into "a question of charity and not of justice."
Instead, the second point pertains to the critique initially supported by Peter Singer and which flowed into the so-called Global Justice line of thought, principally supported by Charles Beitz and by one of Rawls´students, Thomas Pogge1. The main idea of "global justice" regards international justice with all the problems connected to moral relations between individual and institutional subjects, which result as separated among themselves by national boundaries. According to Rawls, the social contract is a national contract. This creates a bond exclusively among citizens of a nation-state and therefore does not create any moral debt between citizens of rich countries and those in countries of delayed development. Even here, justice becomes an exclusively internal fact and not an international one.
The question of exclusions and that of global justice, in contrast, put into evidence both the choice that is at work within the EoC project to consider "the outcasts", the poor, as active subjects and not objects of charity, as well as that of concretely carrying out a global distribution of wealth which is independant from considerations of national or border-line character.
We certainly do not want to affirm that it is possible, in this way, to overcome the limits of the Rawlsian approach, but rather than an outright confrontation with such a theory, we can use it to help us to fully catch the novelty and that prophetic drive inherent in the EoC project.
1 Cfr. Beitz, C., (1979). Political Theory and International Relations. Princeton: Princeton University Press e Pogge, T., (ed.), (2001b), Global Justice, Oxford: Blackwell