More than 2000 People Present at the Conference on the EoC in Rosario (Argentina)
EoC: "A Proposal by Chiara Lubich for Today's Society"
By Carolina Carbonell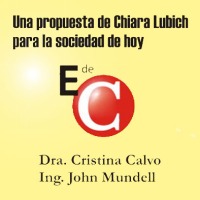 March 17, 2010: in Rosario, Argentina, a homage to Chiara Lubich is the occasion to organize a conference on the Economy of Communion. The invitation is taken up by about 200 people: entrepreneurs, economists and others interested in knowing more about this proposal and the figure of Chiara.
Participants included many university students and various civil and religious figures: the Archbishop of Rosario, Mons. Jose Luis Mollaghan, the director of university campus ministry, Fr. Pablo Lazarte, Rosario town councilor, Clara Garcia, and the Mayor of Chabas, Osvaldo Salomon.
After a brief presentation about Chiara Lubich and her movement, the showing of the video,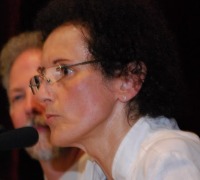 "A Dream of Our Times" helped further understand the spirituality from which the Economy of Communion blossomed. In the next two hours, the audience followed the presentations with close attention. Cristina Calvo presented the foundations of the EoC, immersed in the charism of unity as an answer to the social discrepancy that exists in South America. To this regard, she affirmed, "...it was not by chance that Chiara had the inspiration for the EoC in our lands. Here, we are used to living with the suffering of poverty and here Chiara found the humus of solidarity necessary so that such a bold idea could find an immediate response." Then, she explained the five pillars on which the EoC is based: the business, the poor, the industrial parks, economic theory and the underlying culture.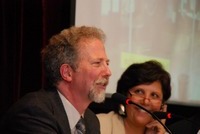 The following presentation was given by a special guest, John Mundell, director of the environmental consulting business, MUNDELL & ASSOCIATES, INC. headquartered in Indianapolis, Indiana, USA. John told his experience as an entrepreneur, starting from the initial risk taken to adhere to an idea whose basis is that relationships are more important than profit. With many experiences, he described the chain of reciprocity that this style created within the business, between employees and with the local surrounding community. And in the end, he raised great interest among participants with his proposal of a youth formation program on the EoC, through internships in the businesses.
Finally, German Jorge, entrepreneur from the city of Parana and president of UNIDESA, the shareholding society that manages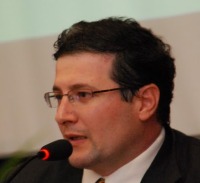 the SOLIDARIDAD Industrial Park, presented the Polo which is located near Mariapolis Lia, O´Higgins, in the province of Buenos Aires. His sharing also included very strong personal experiences which were incisive to the way of living ethics in the business. They were experiences that give encouragement to live one´s job radically and overcome the fear of economic failure.
The news about this event was reported by some of the local media: Radio FM of Rosario, a local station, and the Chabas Municipal Newsletter. Among the participants impressions included many from enthusiastic youth. The sharing of experiences by everyone, learning from everyone, highlighted the beauty of an experience of unity among people from different places.