In an extraordinary atmosphere, solemn and simple at the same time
Economy of Communion at the Lithuanian Parliament
The event organized last March 9 in the Lithuanian Parliament, in Vilnius, was truly unique. The occasion: the 20th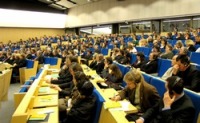 celebration of Lithuania´s independence, which falls on March 11. Through the initiative of Parliament and the Bishop´s Conference, the idea came about for a day meeting titled, "Freedom and Responsibility: the Foundation of the Economy of Communion and Politics in the light of "Caritas in Veritate." Antonio Maria Baggio and Luigino Bruni were invited, together with a Lithuanian priest, to bring their contributions as main presenters, respectively on politics and economics, in the context of the encyclical.
The beautiful hall and 400-seat amphitheater was packed. Various personalities were present, including the president of parliament, Irene Degutiene, various deputies, the cardinal and two bishops, many priests and businessmen, and a thick presence of youth. The day was opened by a warm greeting by the president of the House, followed by that of Archbishop Sigitas Tamkevicius, of Kaunas. The three presentations, prepared by different people and at a distance, followed one another in a harmonious line of development, and the audience listened with ever-growing attention. In particular, what emerged from Antonio Maria Baggie and Luigino Bruni´s presentations was the charge of the novelty of the Trinitarian vision that Chiara Lubich´s charism brings, even in the political and environmental spheres.
Deputy Egidijus Vareikis opened the forum, after a break, by affirming, "It is very rare that we speak about love in the
great hall of Parliament. I take many trips in our country, and I know that what people are lacking is not so much money, but love. I hope that this is not the last time that we see our Italian presenters here." An hour of questions and answers followed, particularly focused on the Economy of Communion and the political style of the Chiara Lubich´s charism of unity. The moderator had to close, almost by force, because the time had already finished. After the conference, many spoke of the marvelous atmosphere there and expressed their desire to know more in other meetings or seminars about these new thoughts. Many faces were illuminated and full of joy.
We asked Luigino Bruni what he thought about the event:
Luigino, from the impressions we received from Vilnius, it seems like the Economy of Communion resonated in a particular way in the Lituanian Parliment. What can you tell us?
Yes, that is definitely what happened.
In your opinion, why was that? What do you see as the main reason for this?
Lituania is a young country, which still has strong Christian roots, and in recent history has undergone 45 years of communism. I felt the strong need of the entrepreneurs there who, even after 20 years of independance, are still lacking almost everything, because the entrepreneurial culture was strongly blocked by the regime. Now, when I spoke about civil entrepreneurs and entrepreneurs of communion, they were really paying attention, because that is what Lituania needs today. It´s a crucial moment in the history of this country, now needing to rebuild its entrepreneurial class. And, in this delicate phase, if Lithuanians listen to their own roots, they will realize that they do not need speculative capitalists, but civil entrepreneurs. The civil entrepreneur is not he who purely seeks his own profit (a speculator does this), but he who has a project to bring about and does it to work for the common good. This answers to this country´s Christian roots and to the aspects of equality that communism, in the good and the bad, expressed and anyways is still part of Lituania´s patrimony.
In what you have seen, what contribution can the EoC make to Lituania today?
Today, the EoC has a great opportunity to help this country grow and develop without renouncing its historical identity but rather valuing it. Concretely, they really liked the idea to start a school for civil entrepreneurs and entrepreneurs of communion. Probably, it should be possible to run a seminar on this at the Catholic University of Kaunas by mid-September.
Some impressions:
A deputy: "If this hall always had an atmosphere like this, politics would be different."
Another deputy: "This conference happened at the right time. It is time for a change."
An economist: "It´s beautiful. What we heard is already life and not only incoherent affirmations."
A sociologist: "The invitation to think and act according to the Trinity is touching and contagious."
An entrepreneur: "I have a business with many responsibilities. This conference gave me the courage to go ahead."
Ute Ihl and Nico Tros, co-responsibles for the Focolare Movement in Lithuania and present at the event, told us, "Returning in the car, it almost seemed like everything that happened in that beautiful hall in Parliament had been ´dreamed.´ It is a further evident sign that Chiara Lubich´s charism is unstoppably spreading in the world, because it responds fundamentally to its most urgent needs."