Seven Irishmen and one brave girl travelled to Burkina Faso to practically help develop an EoC project: the cronicle from an Irish Newspaper
by Sean McMahon
published in Anglo Celt newspaper on 24/01/2018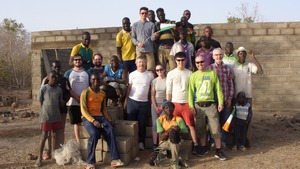 Cavan Volunteers together with people from neighbouring Counties have just returned from a highly successful trip to a farming community in far off West Africa. They used their skills in unison with the hard working local people to erect a dairy where milking equipment can be installed and the farmers there can evolve from subsistence farming to more advanced methods, which derive an income for them. They will be returning to West Africa to advance this enlighted project and are appealing for milking machine equipment donations.
One of the Cavan Town volunteers Paul Connolly told The Anglo-Celt that they all went out to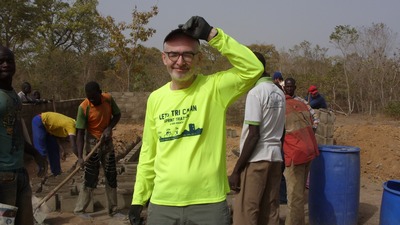 Burkina Faso on the 27th December and returned on the 6th January, 2018. Paul Connolly revealed that he got the idea to go out to West Africa because his Business is involved in a Business Charity that funds projects. "It is called the Economy of Communion. I met this African priest a few years ago who was interested in the Economy of Communion, because he wanted to set-up a Farm School in Burkina Faso".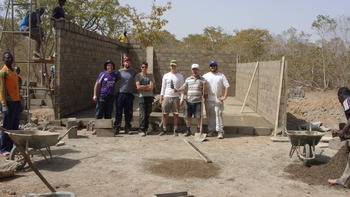 "I decided to direct my funding to him, because I realised that he was very serious about establishing this Farm School and I thought it would be a good way to direct the funds. For the past few years, myself together with a number of others from Ireland have been funding the project", said Paul Connolly.
Paul Connolly was glad to report that the school did become a reality and already has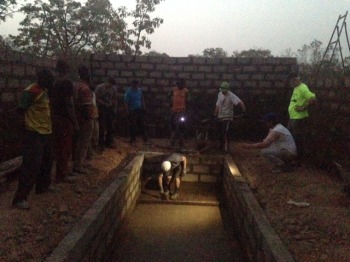 had a number of intakes of students.
Fr Expedit Gnoumou was insistent that they should come out and visit the facility that the funding helped to put in place. "We said we would like to go out and do some work and his reply to us, the bricks will be ready. I got a friend of mine from the Kells area who is a farmer and builder, Kevin Costello - we were very lucky to have him on board. Our crew also included five people from Cavan and two from Dublin".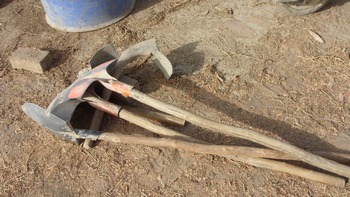 It was a long journey, - first they had to fly to Paris, then onto Algiers and then on to Ouaghadougon and drive a further 250 miles, some of it off road.
"When we got there, the people were lovely – we were really well looked after – we had to tell them to stop bringing so much for dinner".
"We worked away really hard – we did not do any of the tourist trips, accept on the airport. We got on great with the local lads and they were really strong and were well able to use the picks to dig out the pit for the dairy", said Paul Connolly.
"We built the dairy and left it ready for the roof – once the design and shape was right, they have the capacity to add the roof", he said. The sand and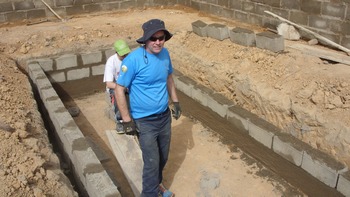 gravel to make the building blocks in the mould and for the mortar, came from the bed of a local river.
Milking machine Equipment Required
Paul Connolly is appealing to any farmers out there who have milking machines they are no longer using, to consider donating them or parts for this project. The farmers out in Burkina Faso have a tractor, but very little equipment like a link box, trailers, front loaders to go with it. "We would be grateful for any of these items", said Paul Connolly. Paul says they also intend to arrange for a Pick Up Truck to be supplied to the area, which they really require urgently. At present they use three wheel motorbikes with trailers attached to them.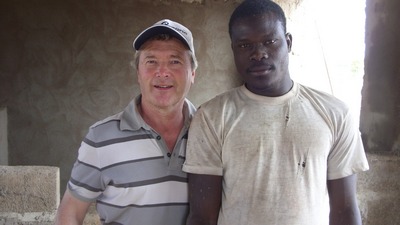 "In a few months time we will start looking for funding to send out a container equipment for the dairy, including milking machine parts, tools and generators. It will be designed to teach the local people how to milk cows with the milking machine equipment, instead of milking them by hand", explained Connolly.
The next project after that will be to build some type of Yoghurt processing plant, that will convert the milk into Yoghurt, as they drink a lot of Yoghurt there.
Paul Connolly pointed out that it is also difficult to get good milking cows out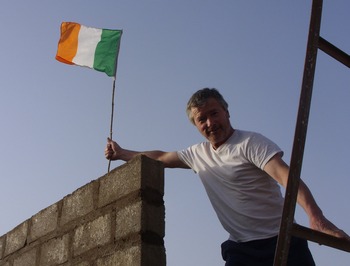 there, so contact may be made with Bothar, a farm charity, to ascertain how they send out animals.
"It is the second poorest country in the world and it was great for people to see that is how a lot of the world lives".
The Farm School has got a contract with a local Mine to supply food. They are currently subsistence farmers and Fr Expedit Gnoumou wants to prove to them, that if they use more modern methods, they can actually make an income.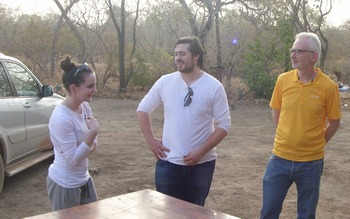 "We hope to make regular trips out there and keep doing more work like this – basically, they require more development".
Chickens and eggs are supplied to the local by the Farm School and they are also good at fish farming and caught some large cat fish, which Paul Connolly revealed made a lovely meal that evening. Paul Connolly said another well in the area is now working with the aid of an electric pump which his group organised a few years ago.
This is brilliant work that Paul Connolly and all the group are doing in far off West Africa and if you would like to make a donation of milking machine equipment or machinery that would be useful with their tractor, please contact Paul Connolly on 0879356756.
see photogallery
---
Editors note: An Irish farmer, after reading this article, has offered some milking equipment for the project and more offers of help are coming in every day