The EOC and open challenges
By Luigino Bruni
From "Economia di Comunione - una cultura nuova"  n.29 - September 2009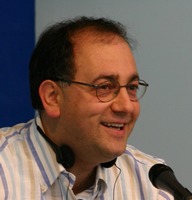 This second EOC report arises above all from the need for reciprocity and communion with all the project's actors: with entrepreneurs who generously and trustingly give their profits each year; with the many people who, with the shared profits, make the EOC projects possible; with Amu and its private and institutional representatives; and with all who ask the EOC to be always more accountable for the communion that is lived and promoted.
We know that we´re still far from a report that expresses the entire reality of the EOC, which is always more articulated and complex in the various regions of the world. Both the 2008 and 2009 report provide data related mostly to the profits received and how they were used, as well as the projects we're supporting. Starting next year, we would like to add a second, co-essential element to the report, because it would be valid to publish data related to the businesses. Almost a year ago now, we launched a "new census"  of the EOC businesses in order to have updated information to publish.
Moreover, the official site, www.edc-online.org, is a updated source of news, reflections, experiences and papers that complement all that is published in the present report. The "Lionello Bonfante" Industrial Park is also finishing its new site, which will also be a precious source of information and news.
As we said in the opening, the EOC has come of age: we feel that we are in front of new challenges, which we want to face with enthusiasm and responsibility. We need to develop the industrial parks more, and do what is needed so that they become "laboratories" and "beacons" of a new civil economy, in dialogue with all who are searching for a market from the human perspective. We need to increase our love for the "crowns of thorns" of our cities, as well as poverty's old and new facets taken on today in our globalized societies. And we must do so while in dialogue with political institutions, without which it is not seriously possible to fight poverty. We need to give life to new forms of communal governance, those "new wine skins" of communion indicated to us by Chiara Lubich as a new challenge in the last message she wrote to the EOC.  Most of all, we need to renew our faith and hope that an economy of communion is possible, here and now, in the middle of the joys and contradictions of our times and of our everyday lives.