Beyond the crisis with the EOC
By Luigino Bruni
From "Economia di Comunione - una cultura nuova"  n.29 - September 2009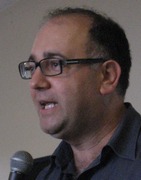 Two-thousand eight and 2009 will be remembered as the years of the global economic crisis, a crisis that has roots in the transformation of the economic system, no longer based on real economy but always more on that of finance. What has emerged is a fragile, empty system that concentrates wealth in the hands of few and passes on the costs to the community. In the last two centuries, it is the most dramatic manifestation of a process that has lead to the substitution of personal search for private well-being to the collective search for the common good, at all costs.
We believe, in fact, that the crisis underway is not so much an economic one, but is above all a cultural and moral one, regarding our lifestyle and our relationship with goods and with others. With the arrival and development of the industrial and technological society, in fact, we have progressively deceived ourselves into thinking we are capable of "immunizing" ourselves from personal relationships and the "wounds" that these inevitably cause. Instead, we aim always more at accumulating money as a means of satisfaction of needs, as a "status symbol", and as a vehicle of relationships. And then from here, we have moved on to debt pile-up, the mad dash for goods, but also to trusting our own "securities" to money. We have not realized that, in this way (by distancing ourselves from human relationships), we have become immune to happiness itself, to the fact that one can only live in the dramatic encounter with others. Above all, there is need for a cultural change. Never as in this last year has this been so evoked, necessary and awaited. 
History shows that great changes, even in the economy, have come from charisms. These are gifts that Providence brought about in order to offer answers and indicate ways to men and women in times of crisis. From Saint Benedict to Gandhi, from Francis to Father Milani, charisms have been concrete answers to concrete needs - not ideologies, but acts of love.
We are convinced that the EOC is one of these gifts that that Spirit has brought about, within the Focolare Movement, in these times of epochal crisis. They are times in which the market economy is trying to move beyond capitalism (profit as the purpose of business, consumption as the purpose of a citizen), and saving civilization's inclination from the market economy. The reference to the businesses of the economy of communion in Benedict XVI´s encyclical, "Caritas in veritate" (n. 46), is a great sign of hope, and an encouragement to all of us to go ahead, with greater force and generosity, along the road begun.
The History
In May of 1991, Focolare founder Chiara Lubich was walking through the city of San Paolo, Brazil, and was touched by seeing firsthand, next to one of the greatest concentration of skyscrapers in the world,  the vast extension of "favelas" that existed there.  When she reached the Movement´s small town near San Paolo, Mariapolis Araceli (today called Mariapolis Ginetta), she ascertained that the communion of goods practiced in the Movement up until that point was not enough, not even for those Brazilians who she felt so close and who were living in an emergency situation.
Pushed on by the urgency of providing food, shelter, medical treatment, and possibly work - and with John Paul II´s recently published encyclical, "Centesimus Annus" in her heart -  Chiara launched the Economy of Communion:
«Industries must begin here, businesses in which profits would be freely put in common with the same goal of the Christian community: first of all, to help those who are in need, offer them work, make it possible that there be no one in need. Then, the profits also serve to develop the business and the structure of the small town, so that it can form new men and women. Without new men and women, it is not possible to make a new society! A small town like this, here in Brazil, with its wound of discrepancy between rich and poor, could become a beacon of hope» (May 29, 1991).
The "dream" of that moment was becoming a reality in the middle of the contradictions of our times: businesses and activities soon arose not only in Brazil, but in many other countries in the world. Industrial parks began in the various small towns, businesses that already existed made the project their own, changing their style of management and the allocation of profits.
Use of the resources
The EOC project is worldwide, unique and is articulated - according to the principle of subsidiary - at the local or zonal level.  Each business that adheres to the project distributes its own profits in three parts, giving importance to each of these parts in order to align business practice with Chiara´s invitation of dividing profits into three-thirds. The first goes to consolidate the business, another to help those in need, and the last towards the formation of new men and women.
The management of the last two-thirds is entrusted to the International EOC Commission, which evaluates requests and needs coming from all over the world. The Commission allocates the resources to activities which directly help those in need and to activities that provide formation towards the "culture of giving".
The profits allocated for the business, and which remain in it, are invested by the business. They are used towards its functioning and development, focusing primarily on creating new jobs.
The activities which help those in need are also financed by personal, spontaneous donations from members of the Focolare Movement. This transforms the experience of communion into one not only among businesses but "of a people".
Among the objectives of the development and assistance projects carried out in the EOC, the first is that of building fraternal and reciprocal relationships between persons and communities. This is why the aid offered never covers all that is needed. Rather, it is integrated alongside the resources of who is helped and the help he receives from his local community.
In fact, before everything else, the local communities try living the communion of goods by putting all that could be extra and useful to others into circulation. Often, in this way, they are able to resolve some situations of need and to reduce requests for help.
Without a locally lived communion of goods, no type of external intervention will be able to help people get out of poverty´s trap. External help can even worsen the situation in some cases, creating vicious cycles of well-fare dependency.
From this point of view, interventions made are characterized by the personal relationships which we try to build between those who manage the funds on-site and the people who make use of them. Usually, this also leads to sharing deeper sufferings.
The relationship of collaboration and communion built makes many of those helped feel the desire to reciprocate the gift received, in the most various ways. And many, as soon as they are able to maintain themselves autonomously, give up that aid in order to offer it to others.
Being able to reciprocate often leads people to feel that they are already out of their previously difficult situation, stimulating self-esteem and a spirit of initiative, and allowing them once again to starting looking at life with trust. This is why we continually search for more ways to calculate models which stimulate reciprocity already during the planning phase of an intervention project.
Among those who receive aid, there is almost always a number who contribute to the actions taken with a part of the economic resources necessary. For example, students look for a part-time job to pay for their food and housing expenses at the university; or during the start-up of a small business, they give up part of their salary at the beginning, so that they can put those profits back into the business itself, and so on. Very often, among the recipients of aid, there are those who immediately commit themselves to do something for others, to indirectly give back the support received. Some offer after-school lessons for children. Others give a hand in the activities of a social center for the elderly, etc.
«With respect to last year, there are fifteen people who no longer need the help, among them M., of who we report this experience:
"We feel obliged to inform you about our current family situation. We´ve received help for a few years, for which we are extremely grateful. We have built the house while our five children arrived and enriched our family. We feel that God has always been very close and has generously rewarded our "yes" to life. Our house is not big, and it is not complete, but we have all that is necessary. We even have a nice garden, which is useful for us and the children. We even have transportation, necessary because public transportation almost does not exist.Our financial situation has improved in this last period of time, so we no longer need the help. Besides the concrete help, we have experienced that using money which is fruit of the communion of goods,  "God´s capital", has been educational for us and for our children. We thank you again for the help that has made us experience the love of God through our brothers and sisters".
South East Europe
The 28 families helped have not only been able to have regular, daily meals or to fix their houses, but also to grow together in fraternity, solidarity and reciprocity. For example, one person felt she wanted to offer her time to give a hand to those who follow the relationships with the beneficiaries, so she made time to visit another person in difficulty. Another gave her time to help in the kitchen during formation meetings of the community. The families who had received help to fix bedrooms hosted some people who needed a place to stay, while receiving medical treatment or other situations, and they opened their houses to host community meetings. In general, we noticed that many have been more attentive to the needs of others and have shared what they have among each other, concretely helping with their time, for example, painting houses, or simply offering a cup of rice to those who do not have anything to eat.
San Paolo, Brasile
Management of the projects and formation of local counterparts
The experience in these years has reinforced the desire to help each person in the best way possible, finding the most adequate solutions for him, and aiming at doing so in a competent and prepared way. This involves accurate evaluation of interventions made, to use the experience for the future, and the continual formation of the workers responsible for managing the aid activities on-site.
In 2008, we have already held a few formational seminars for our local workers in Brazil, involving more than 50 people. In 2009, we are preparing a seminar on formation in cooperation and project management, which will take place in Brazil in February 2010. The following are pieces of news related to the projects financed in the last few years and which were received from the local EOC commissions. They highlight the process underway which aims at an always better preparation for managing the projects.
Brazil, Integrating income, San Paolo
According to needs, this distribution was monthly or bimonthly, in order to follow each beneficiary´s particular situation. The projects were overseen by 7 appointed people who live close to the beneficiaries and act as contact points for these projects. These people carried out their work voluntarily, personally assuming related costs. Now, we feel the need to further improve this aspect, by hiring a full-time person to follow these projects.
Mexico
The work done in this last year, through a careful evaluation done together over the situation of every person being helped, continues to give fruit. The method which we try to follow has three stages: 1) identify the needs; 2) understand if they can be met through the communion of goods in the local community; and 3) there where help on behalf of the EOC seems neccesary, make known from where the help originates. We try to place economic help side-by-side with formation to the culture of giving, especially for the youth. Our goal and hope is that they truly become "new men and women" in the future who can, in their turn, contribute to helping others.

From the business to the community
One of the characteristics of the EOC, in fact, is not only trying to manage profits with communion, but to make it a lifestyle and way of conducting business on all levels: within the business, with clients and suppliers, with public institutions and with the competition. In this way, sharing isn´t just "downstream" from the productive process, as far as how the produced wealth is used, but is an "upstream" inspiration to the way in which wealth is generated. We share below two related experienced coming from businesses in Eastern Europe.

The courage of legality
«When I decided to open a new environmental projects business, many people warned me about the fact that without advantageous relationships with government employees, it would be impossible to be successful, and especially, to win public contracts. With our shareholders, however, we decided to choose only "clean work", competing for public contracts without making compromises, without offering favors of any kind to the administrators, with the risk that our business wouldn't survive.
As soon as we signed the contract for the first big public competition that we won, we received a request for payoff, under the threat that without it, we wouldn't receive the necessary information to carry out our task. After a very demanding discussion for everyone, because it was uncertain how we could continue our work, we decided to refuse the payment. There were no consequences. We received the contract, obtained the necessary data for the project and successfully finished our work. This experience encouraged us, and we went ahead with the same strategy.
We tried to maintain a clear line of refusal, while also trying to not slam the door on anyone at the level of personal relationship. Most recently, against all expectations, we saw that we were assigned a job together with other associated businesses. We wondered how it was possible, especially as our competitors had offered more advantageous prices. We then discovered that one of our associates, without our knowing it, had pressured a public administrator to tamper with the competition documents so that the choice fell on us. It was a hard blow for us. We felt trapped by our friends. After speaking with the associate in question, who then admitted the dishonest action, we decided to go for broke. Before the winner of the concourse was made official, we turned to the public administrator, asking him to put the other businesses back into the competition. In this way, we obviously lost the work, but we gained back a trustful relationship and renewed friendship with our associate, who undersigned a declaration of honesty in front of us.
Following this line, we failed to obtain various very important projects as well, and this has certainly not left us indifferent. But sometimes I ask myself where our business would be if we had taken another road. Perhaps, having following what "everyone" does, would we now have more collaborators and higher salaries? Or would we find ourselves having to face serious judicial problems?
With the businesses with which we more closely collaborate, a new, fresh, freeing culture is being established. These taboo topics are also beginning to be spoken about, and this encourages us to continue along this road ».
Running the business in three
T: «Our business was founded in 1991. Then, in 1999, I. became our second associate. For me, it´s fundamental to run our business in three: the two of us associates and God. We take all the important decisions together. One time, I went to talk to I. about buying a shed because we needed a place to store materials. I had already seen it, and it seemed like a great solution, being close, not costing very much, etc. I was already trying to understand how to finance it. Going to I., I had my proposal already complete, and I expected that he would simply say, "Yes, okay." I felt that this was not communion. So I left all my documents in the car, and I went inside, wanting only to make this an experience of unity. When I presented him with my point of view, I. told me very delicately that he didn´t think it was a good choice. It wasn´t easy to give up my idea, but in that atmosphere, I understood that it was right to not take further action. A year later, it was very clear that the choice made together was the better one for our small business».
I.: «Our collaborators are paid in proportion to their personal productivity. Among them was a person with a mental disability. I explained to the others that it would be easier for me to fire her rather than work with her, but I ask everyone to pay special attention to her, to help her out. It was very beautiful to see that, after awhile, they made the proposal to divide all of the production done together into equal parts among all the employees».