The very much awaited International EoC Summer School 'Towards a Bridging Economy' started today in Abrigada, Portugal.
From our correspondent Isaias Hernando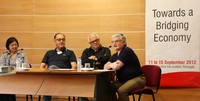 The little city of Arco-Iris, laying amidst the beautiful hills of Abrigada, near Lisbon, wore her very best today in order to welcome the 70 plus participants of the EoC International Summer School, with the strongest representation made by the younger generation.
After having been greeted by the organizers, the Catholic University of Porto, the EoC Committee of Portugal and the EoC International Committee, a brief presentation of each participant was made: very diverse young people, both in formation, culture and origin, who offered a great richness of perspectives but also of expectations of the EoC. Diverse, yes, but with very high expectations: not one of them made the thousand kilometer journey, spending time and money, if not to draw the most from this opportunity.
For this reason, after calling to mind all those who could not make it to this appointment, though the desire to do so had led them to hope and plan,
and who saw their hopes dashed through difficulties in obtaining necessary Visas, or because of the complex political situation in their countries of origin, the day turned towards the reason for their being there, with the first talk of the day being given by Luca Crivelli on 'Poverty, development and reciprocity'.
The speaker shared a very articulated and complete vision on the multiple aspects of poverty, its metrics, semantics, and epistemology, and the various answers regarding it given by traditional development projects, with the 'dilemma of the Good Samaritan' as a starting point, and ending with the original vision of poverty and development arising from the theory and practice of the Economy of Communion.
"The most precious asset to help resolve the problem of misery is the gift of new eyes, the eyes of the 'culture of giving' which enables some people to see things which others cannot: the blessing hidden in the wounds".
In the afternoon, the talks given by Teresa Ganzon, by Bangko Kabayan (Philippines) and by John Mundell, of Mundell & Associates (USA), the latter taking place by video-conference, will be the complement of the experience of the past years in the fight against poverty through microcredit and the transformation lived by businesses and the life of their protagonists when they apply this original vision of the EoC.