1st European EoC Summer School – "Towards a Bridging Economy": All the news!

Preparations are underway for the Summer School that is taking place from Sept. 11-18 at the little City of Arco-Iris near Lisbon, Portugal. Here are the latest news.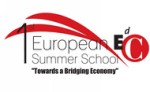 Registration has re-opened. June 15, at closing of registrations, the number of those registered exceeded expectations: however, other requests kept arriving and therefore, in order to respond positively, registration was re-opened. There are only a dozen seats available: those interested are asked to hurry! To register you will need to fill out the online form clicking here.
From European to Intercontinental. As of today, the 70 people registered come from 20 different countries – Spain, France, England, Denmark, Italy, Hungary, Romania, Croatia, Rep. of Slovakia, Serbia, Macedonia, Syria, Philippines, Thailand, China, Angola, Argentina, Cuba, Brazil, and Portugal. The greater majority are young students but also entrepreneurs between the ages of 19 – 32, just starting out in the business world, as well as workers.
An interactive School. This is the outline, which was enriched by the diversity of origins and formation, as well as interesting expectations on the part of those participating, discovered during the candidacies: expectations which constituted valid suggestions in some cases for building the program itself.
Call for papers. While in Summer School, there will be a chance for the scholars to present their research work by two means:
* A brief Presentation (5-7 minutes) – for those beginning their research, that is, in the phase of defining which direction to take.
* Presentations (15 minutes) – for scholars in the phase of a more developed research, with conclusions to present.

The areas of interest for these sessions include the following arguments ( but not only): Economy of Communion, Poverty and Development, Reciprocity, Gratuity, Relational Goods, Work, Happiness, Responsible and ethical consumerism, Sustainable Development, Innovation, Communion Governance, etc.

Those who wish to participate in this session must send an abstract of their research paper of maximum 1 page by 30/08/2012, at eoc.summerschool@gmail

For any other information, write to: Diese E-Mail-Adresse ist vor Spambots geschützt! Zur Anzeige muss JavaScript eingeschaltet sein!

Follow us on Facebook!